My Home Office (2023)
It's been about a year and a half since I wrote my last home office post and while much of it has stayed the same, I've updated and moved things around quite a bit and felt it was time to write about my current setup and share some new pictures.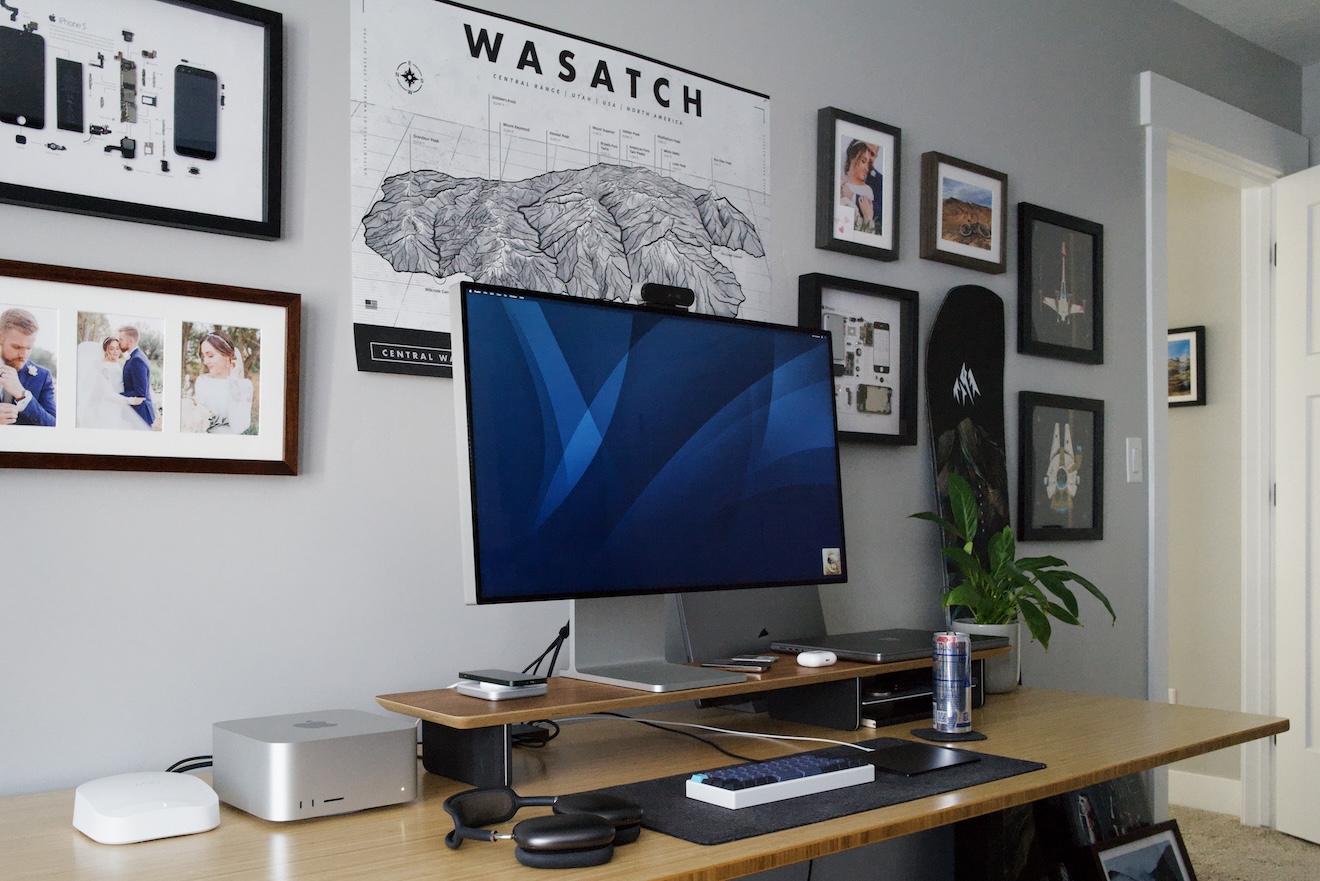 I've been working remotely since mid-2016 – now in my eighth year. The majority of that time I was working for Bleacher Report/Turner Sports, then remotely for Apple1 before joining a startup named Commonstock. After a little over a year at Commonstock, we were acquired by Yahoo2 where I now work as a principal software engineer on the Yahoo Finance iOS app.
Over the years I've written a couple posts (and countless tweets) about my home office with commentary about remote work before it was cool.
If you're interested in checking out the older stuff, here are some links:
Working remotely – a look at my first remote gig with Bleacher Report after three years with some tips from personal experience working remotely (May 2019)
My home office – an updated look at my home office from last year while I was working remotely for Apple (Feb 2022)
Is it really about pajamas? – a mini rant about remote work productivity and belonging directed toward Malcom Gladwell after some comments he made on a podcast (Aug 2022)
This year I have a lot to share, including some fun pictures and breakdowns of some of the individual pieces that make up my office. I've broken the post into three different sections: the layout, the gear, and the furniture & decor.
A few disclaimers before we dive in:
I'm a strong advocate of remote work and believe that when supported at the team and organization levels, it can be a powerful tool to improve diversity, equity, and inclusion in the workforce as well as allowing people to prioritize things in their lives outside of work. I apologize if any of my thoughts or opinions come across as anything other than constructive.
I have been building apps on and for Apple platforms since 2008, and I'm a bit of an Apple fanboy. My office is a reflection of that, so be warned there are many Apple products featured in this post. Proceed at your own risk, and/or hide your wallet now 💸
When linking to Amazon I've included affiliate links, so if you make a qualifying purchase I earn a commission. This doesn't cost you anything and helps support me and this site.
the layout
If you work remotely and do some portion of your work on video calls, there are two primary views you think about when arranging the workspace: your view, and the camera's view.
Over the years I've tried to place some cool story pieces in clear view of my webcam so people joining a video call with me for the first (or 20th) time have something cool to look at or comment on. It helps to convey a bit of who I am and hopefully leads to them feeling more comfortable on a call with me. When working remotely, any effort to bring some humanity to the little 2D rectangle that represents you on a call goes a long way.
In the last iteration of my office, I skewed too heavily toward what was seen from my web cam and had a rather sparse view from my desk. I had a couple pictures and a few toys, but they were all placed on the desktop which ended up feeling too confined day after day.
So this year I flipped my office layout, moving my desk to the old video background wall, which I've absolutely loved. Over the years I've collected quite a few pieces of art that I've hung around my office, and with a big blank wall in front of my desk I've been able to display many of them for my own enjoyment, which visually expands my workspace beyond my desk to the rest of the wall.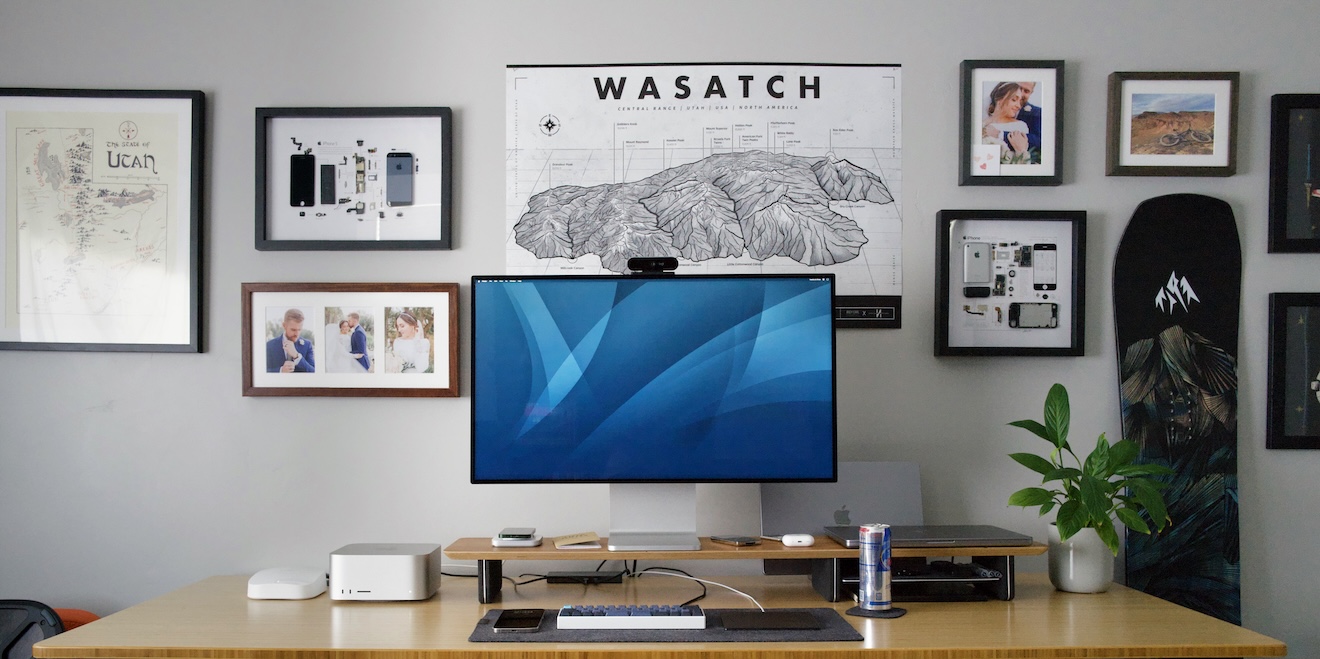 Now as I'm sitting at my desk on a work call, or taking a moment to think through a problem, I take a little breath to look around. The photos, art, and snowboards bring a little smile to my face and help to center me. There are more important things in life than work, and that perspective helps me to not stress about the little things.
the gear
Over the years that I've worked from home, I've put together a nice collection of tech, furniture, and accessories that help make my office a productive and inviting space. Here's a breakdown of the tech gear I'm currently using, when it was added to my setup, and the price.
Keep reading for my thoughts on most items, or jump to the ones you care about using the arrows to the writeup (↓) or the product page (↗). Where possible I've included links to the products, however some have been discontinued or are no longer available.
table of gear
| devices | added | price |
| --- | --- | --- |
| Pro Display XDR (with Pro Stand) ↓ | Jan, 2021 | $6k |
| Mac Studio (M1 Ultra, 64GB RAM, 4TB SSD) ↓ | Apr, 2022 | $5k |
| MacBook Pro (M1 Pro, 32GB RAM, 2TB SSD) ↓ | Nov, 2021 | $3.5k |
| iPhone 15 Pro Max (256GB) ↓ | Sep, 2023 | $1.2k |
| iPad Pro (12.9", M2, 256GB) ↓ | Mar, 2023 | $1.2k |
| Apple Watch Ultra ↓ | Sep, 2022 | $800 |
| peripherals | added | price |
| --- | --- | --- |
| AirPods Max ↓ | Dec, 2020 | $550 |
| AirPods Pro 2 ↓ | Jul, 2023 | $250 |
| Magic Trackpad ↓ | Mar, 2018 | $130 |
| MiniVan Mechanical Keyboard ↓ | Dec, 2017 | $400 |
| Logitech 4K Pro Magnetic Webcam ↓ | Jan, 2021 | $200 |
| music | added | price |
| --- | --- | --- |
| Audio-Technica Turntable ↓ | Jul, 2021 | $350 |
| Klipsch R-51PM Speakers ↓ | Oct, 2018 | $350 |
| Belkin SoundForm Connect ↓ | Jul, 2021 | $100 |
| other accessories | added | price |
| --- | --- | --- |
| SVALT Cooling Dock DHCR ↓ | Sep, 2023 | $280 |
| SABRENT Thunderbolt 4 KVM Switch ↗ | Sep, 2023 | $300 |
| Nomad Base One MagSafe Charger ↗ | Sep, 2023 | $100 |
| Anker USB-C to Gigabit Ethernet Adapter ↗ | Sep, 2023 | $20 |
| Anker 12 Outlet Power Strip ↗ | Sep, 2023 | $23 |
| eero Pro 6 Mesh Wifi System ↗ | Dec, 2020 | $550 |
| ElevationLab QuickDraw (x2) ↗ | Apr, 2022 | $25 |
| ElevationLab Headphone Anchor ↗ | Mar, 2016 | $12 |
| Moleskine Soft Cover XL Notebook ↗ | Various | $30 |
| Muji 0.38 Gel Ink Pens ↗ | Various | $18 |
Pro Display XDR
Front and center on my desk is one of my favorite tech purchases, and the screen I've looked at the most in the last three plus years: the Pro Display XDR. At the time it was a ridiculous purchase (it still is), but I don't regret it one bit. I'm dreading the day when Apple inevitably releases a ProMotion version of the display, because that's the one feature I miss compared to working on my laptops. I don't know if I'll be strong enough to resist upgrading to that theoretical display.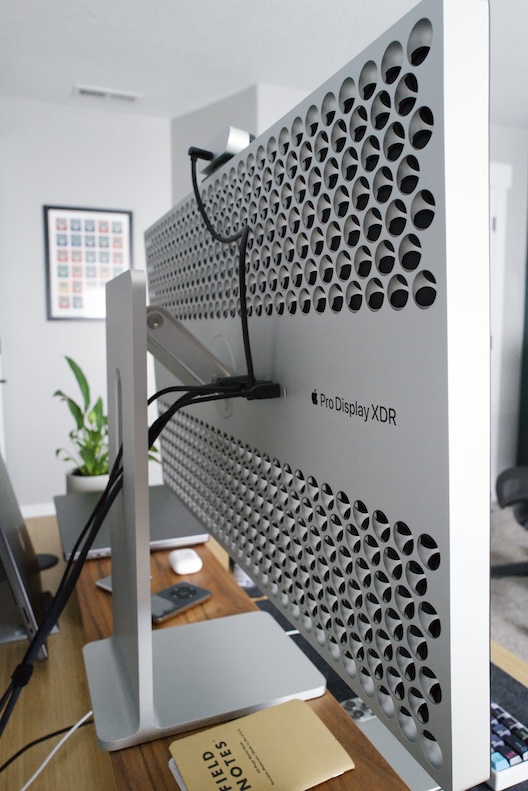 I went with the standard (glossy) display instead of the matte nano-texture version. The lighting in my office is pretty controlled, with blackout blinds on each of the three windows, so I didn't feel the need to shell out the extra $1,000. In addition I was worried when the support documents were released, as it seemed like the nano-texture was going to require extra care to avoid scratches.
This year, I was finally able to address one of the biggest downsides to the Pro Display for my setup: multiple input support. The Pro Display only has a single TB4 port to connect a machine to it, which probably works well for most people, but I have three different Macs that I switch between for different contexts: a work-issued MacBook Pro, a Mac Studio for indie app development3, and a personal MacBook Pro.
A month ago I lamented on Mastodon that even though there are many Thunderbolt and USB-C hubs, I hadn't seen a Thunderbolt KVM. My friend Dave DeLong replied with a link to one that had just come out, and I immediately ordered it. Switching machines isn't instantaneous, but I'm happy to report that it works extremely well and allows me to keep both my Mac Studio and a MacBook Pro plugged in to the Pro display. ↩
Mac Studio
I used to do most of my work on a 27″ iMac, which was great for my needs. It had great performance, a gorgeous display (during the period of time Apple didn't offer an external display), and a reasonable price point. The Mac Pro (while enviable) was generally overkill for developers, and MacBook Pros are always a performance tradeoff for the mobility. When Apple released the Pro Display XDR there wasn't a desktop that really checked all of the boxes for me, so I went back to a MacBook Pro plugged into the XDR.
Thankfully that all changed when Apple unveiled the Mac Studio, which I've absolutely loved. I ordered mine with the M1 Ultra, 64GB RAM, and a 4TB SSD, which has been a great spec for everything I've thrown at it. I don't foresee needing to upgrade for several more years. ↩
16" MacBook Pro(s)
I can't believe that I haven't written a post about the latest iteration of the MacBook Pro design. It's my favorite form factor of the machine ever, and the battery life + performance are incredible. I have two almost identical M1 MacBook Pros configs, one work-issued and one personal, and they're both great to work on. Both of mine have the M1 Pro with 32GB RAM, and my personal machine has a 2TB SSD.
Most of the time I use the work laptop in clamshell mode on the Svalt cooling dock, but I often use my personal machine as a laptop and love the ProMotion display. As I mentioned above, I'd love to have ProMotion added to a future iteration of the Pro display once it's feasible.
As much as I'd love the year over year improvements of the M2 and M3 chips, the M1 is still plenty fast and the battery life is holding strong. Although the M3 chips look great, I'll be waiting for the M4 or M5 chips to upgrade. ↩
iPhones
No iPhone app developer's gear list is complete without mentioning the various iOS devices they have sitting on their desk on any given day. Currently I have four phones hanging around:
iPhone 15 Pro Max (natural titanium)

My daily carry phone, and my favorite iPhone of all time.

iPhone 14 (purple)

My work-issued phone (purple for Yahoo).

iPhone 13 mini (Green)

I love the mini form factor, so before I left Apple I used my discount to pick one of them up. I've swapped my eSIM over to it a few times and carried it, but it's mostly a test phone to verify interfaces work on the smaller screen.

iPhone SE (Gen 2, White)

The last vestige of the home button, great test device for top and bottom spacing of apps without the extra space allotted for the notch/island and bottom home indicator.
I don't think you can go wrong with any of the iPhones Apple sells nowadays. They all have great specs, great cameras, and will last several years. Most of the time it comes down to price and size. However, the iPhone 15 Pro Max has been an exceptional upgrade, and really feels like the pinnacle of this form factor. Perhaps I'll write a longer post after the honeymoon period wears off, but I posted my first impressions on Mastodon. ↩
iPad Pro
I love the 12.9″ iPad Pro. It's something I can't quite put into words, but the combination of the thin case and the expansive bright screen makes it such a pure device. My one complaint about the iPad is that the software hasn't been able to keep up with the hardware. There are "pro" apps that utilize the chip to export video or play games, but over the years third party developers have been hamstrung by app review, preventing innovative uses of the hardware.
I hope one day we'll see the iPad get to live up to it's potential as a device. ↩
Apple Watch Ultra
One of the under-appreciated things that Apple has done over the last decade is change a generation (or more) of people who gave up on watches back into watch wearers. I've owned [almost] every generation of Apple Watch and they've all been great, but the Ultra was the first one where I thought "Oh yeah, this is going to be awesome".
The larger screen, the improvements to watchOS, and the gorgeous titanium case make it my favorite watch ever, and I'm looking forward to the future generations of Ultras. ↩
AirPods
I have too many pairs of AirPods, but the two I use the most at my desk are the AirPods Max in Space Gray and the AirPods Pro 2. Usually I lean towards the AirPods Max for music and the Pros for video calls, but they're both really good at what they do. For me, too much time wearing the in-ear pros can get tiring for my ears, whereas I can go several hours wearing the Max with no issues.
I'm [not-so] patiently waiting for the next generation of the AirPods Max not because these need to be replaced, but because I wish I would've chosen the silver color. My MacBook Pros are space gray, but the Pro Display and Mac Studio are more prominent on my desk and silver. USB-C and lossless audio would be nice too. ↩
Mouse and Keyboard
I'm probably weird, but I use a trackpad full time on macOS. I've tried the Logitech MX Master and the like, but I always find myself missing the fluid gestural control that I "grew up on" in college as Apple was making their trackpads bigger and better. I will admit that part of what makes it easy for me to use a trackpad is that I'm a heavy keyboard user, and try to do most things using keyboard shortcuts. There are times that I'm doing repetitive mouse tasks that get annoying with a trackpad, but those times are so infrequent that I've stuck on the trackpad for the last decade.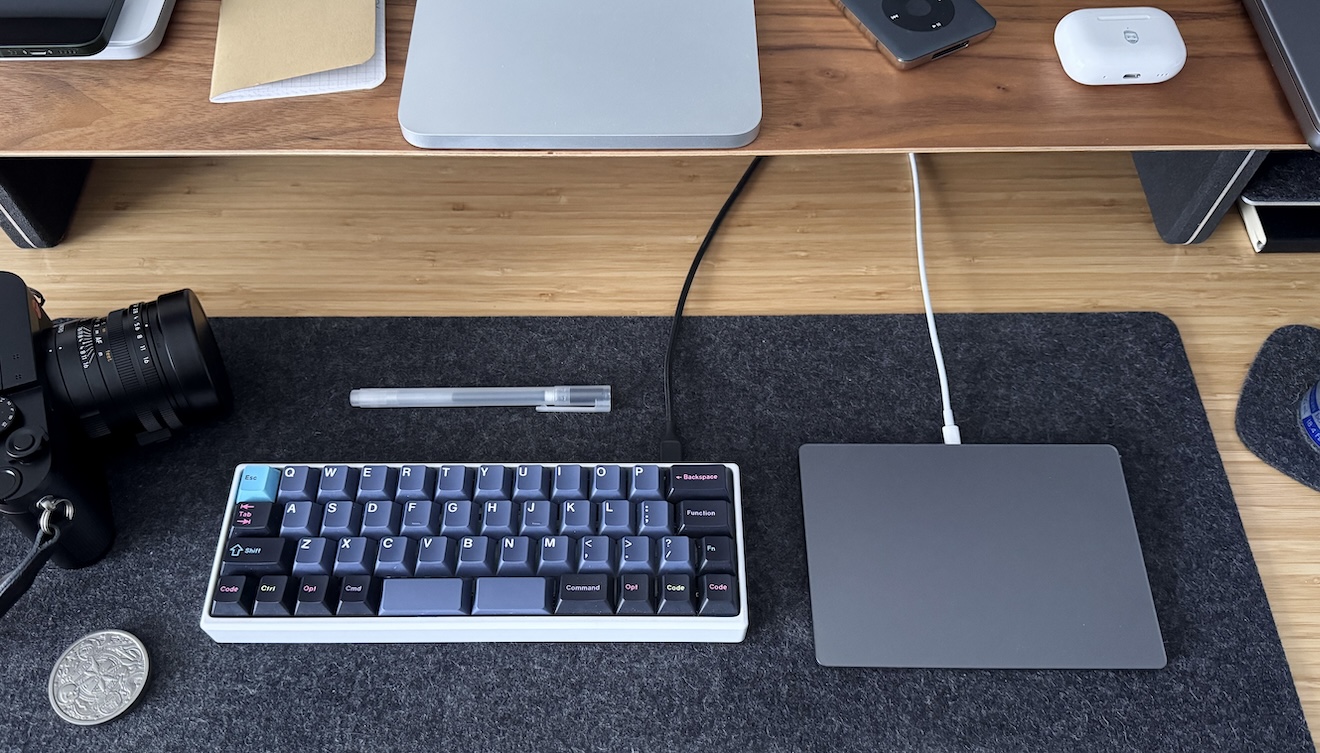 I built this particular keyboard almost six years ago, and I have several others that have the same layout. I wrote a bit about my introduction to the MiniVan keyboard in a post a couple years ago if you're curious. This build uses a special edition white powder coated aluminum case, Low Rider USB-C PCB, Zilent 67g switches, Zeal screw-in stabilizers, and GMK Dracula keycaps. ↩
Logitech Magnetic Webcam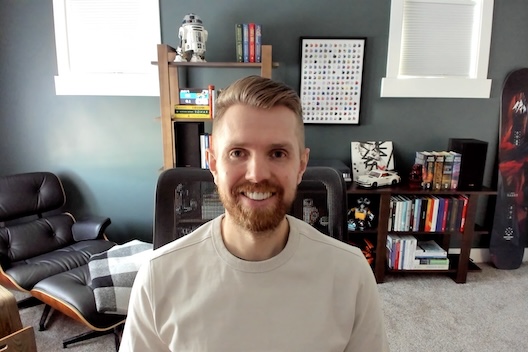 I don't know, it works? I upgraded to this webcam when I bought the Pro display because it has a cool magnetic attachment mechanism designed specifically for the Pro display. Other than Logitech's software being a total mess, the camera works well. I used to have the Logitech software installed to manage the frame and other features, but now I rely on the system to do whatever it wants and I haven't had any issues. The image is an unedited photo from the webcam on a bit of a cloudy afternoon (mirrored so it looks like it does in video calls). Some day I'd love to try out the Opal C1, but so far I've been holding out. ↩
Turntable & Speakers
Years ago I decided to try out listening to vinyls. I'm [just] young enough that I wasn't doing it because of nostalgia, more because I was curious about what I had missed. I don't tend to jump into anything halfway, so I bought the well-reviewed Audio-Technia LP120 turntable4 and a pair of studio monitors and immediately fell in love with the analog sound, warmth, and dynamic range of vinyl. Since then I've always kept my vinyl listening setup in my office and slowly grown my collection.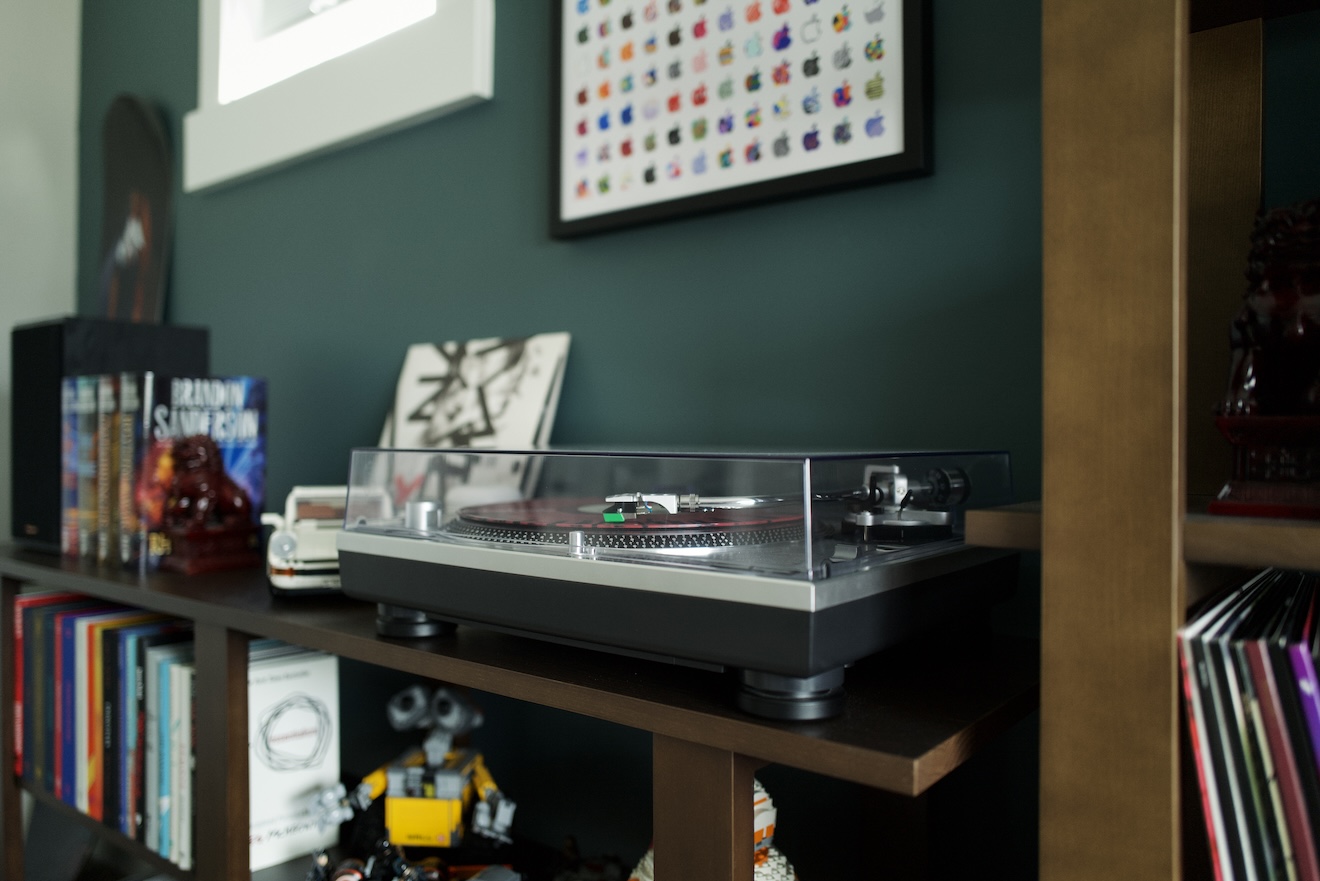 In 2018, I wanted to streamline the appearance of my setup, and upgraded my speakers to the Klipsch R-51PM powered bookshelf speakers, removing the need for a bulky receiver on my shelves. They've been tremendous in terms of sound quality, appearance, and features. They also have bluetooth, which was nice for the times when I wanted to listen to music that I didn't own on vinyl. ↩
SoundForm Connect
The SoundForm Connect is one of those pieces of tech that becomes invisible because it works so well. Because I have a [small] vinyl collection that I listen to in my office, I have a set of bookshelf speakers instead of a smart speaker setup. When Belkin announced this little device that allowed you to turn any speakers into an AirPlay destination, I was able to have my cake and eat it too. I have this wired into my Klipsch speakers via an optical cable and the sound quality over AirPlay is awesome. ↩
SVALT Cooling Dock
I'm not an expert in thermodynamics, but based off how Apple (and others) have explained the cooling system on their laptops, it makes sense that when you've closed the screen you're limiting the airflow out of the machine. Enter the SVALT cooling dock, which acts as an external heatsink directly outside the bottom of the laptop case where the logic board sits. In my experience the M-series laptops run much cooler than the last generation of Intel MacBook Pros, but if you feel the bottom of the machine after a while it's definitely still warm.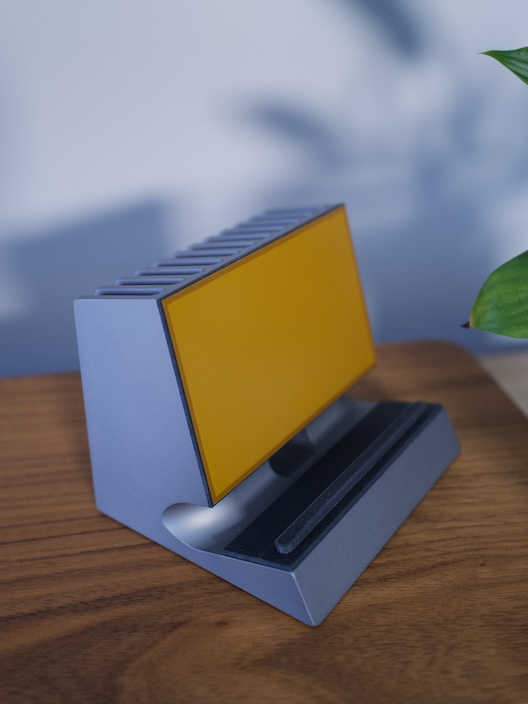 I had the first generation of this cooling dock (designed for the Intel machines), and it definitely seemed to help increase the long-run performance of the machines when running in clamshell mode. This new iteration is even cooler, with big heatsink fins on the back and a "thermally conductive interface" to draw heat out of the laptop to keep it cool.
Again, I'm not an expert but my anecdotal experience is that these things work. Svalt also has a cool writeup breaking down sustained performance of M1 Max machines with each model.
Performance aside, they look really cool and serve as a great place to rest your laptop to dock, I highly recommend them. ↩
the furniture & decor
Equally important to the gear in my office is the furniture and decor that really makes it mine. This is the type of stuff you're never really going to be able to have in a typical office environment, unless you're the CEO.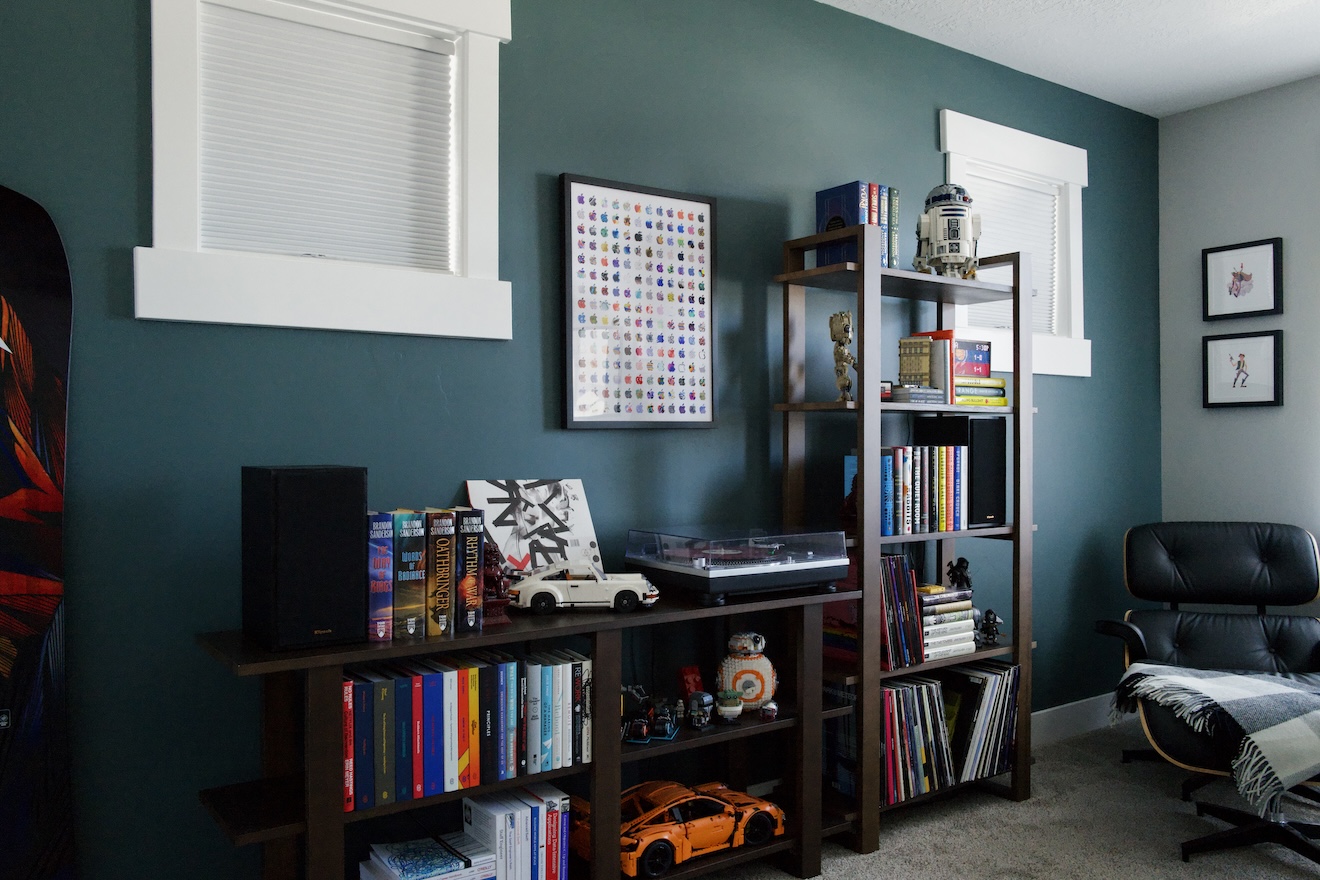 table of furniture & decor
| furniture | added | price |
| --- | --- | --- |
| Fully Jarvis Standing Desk ↓ | Mar, 2018 | $680 |
| Herman Miller Cosm ↓ | Jan, 2020 | $1.6k |
| Replica Eames Lounge Chair ↓ | Oct, 2020 | $1.4k |
| Burrow Bookcase and Console ↓ | Sep, 2023 | $1.3k |
| FluidStance Level Balance Board ↓ | Sep, 2023 | $300 |
| art ↓ | added | price |
| --- | --- | --- |
| Grid Framed iPhones ↗ | 2021-2022 | $550 |
| Wasatch Central Range Map ↗ | Jun, 2019 | $85 |
| Baseball Stadium Infographics ↗ | Mar, 2017 | $60 |
| Hand Drawn Utah Map ↗ | May, 2020 | $50 |
| Vault Alarm A–Z Print ↗ | Aug, 2023 | $15 |
| Illustrated Star Wars Prints (by Rogie) | 2016-2018 | $100 |
| Apple Special Event Logos Print ↗ | Sep, 2023 | $70 |
| Golden Gate Bridge In Type ↗ | Sep, 2023 | $90 |
| snowboards ↓ | added | price |
| --- | --- | --- |
| Jones Mountain Twin ↗ | Dec, 2021 | $550 |
| Jones Tweaker – Limited Edition ↗ | Apr, 2022 | $530 |
| Jones Frontier ↗ | Sep, 2023 | $500 |
| toys | added | price |
| --- | --- | --- |
| Legos ↓ | Various | $1k+ |
| Destiny Figurines | Various | $150 |
| Tidbyt ↗ | Dec, 2022 | $170 |
Jarvis Standing Desk
I've had this desk for almost six years, and it's been excellent. I went with the large 78"x30" bamboo desktop. I love having space on either side of me, even though sometimes it gets cluttered. I'd [still] like to upgrade the top to a thicker reclaimed walnut slab someday, but the bamboo has held up tremendously well over the years and it's hard to justify the cost for almost purely aesthetic reasons. ↩
Herman Miller Cosm
This desk chair, like most in the Herman Miller catalog, is definitely pricey. I used to have a Herman Miller Embody, but I took a gamble on the Cosm and it's supposed "no adjustments necessary" design and I've been impressed. It's definitely my favorite desk chair, and I love the full mesh design. I went with the high-back design with the leaf arms (which I love) in graphite. ↩
Replica Eames Lounge Chair
The famed Eames Lounge Chair and Ottoman have been on my office "must-have" list forever. It was only a matter of time before I sought out a high quality replica. If I ever won the lottery I might pay full price for an official one, but this one is extremely high quality and I haven't regretted it one bit. ↩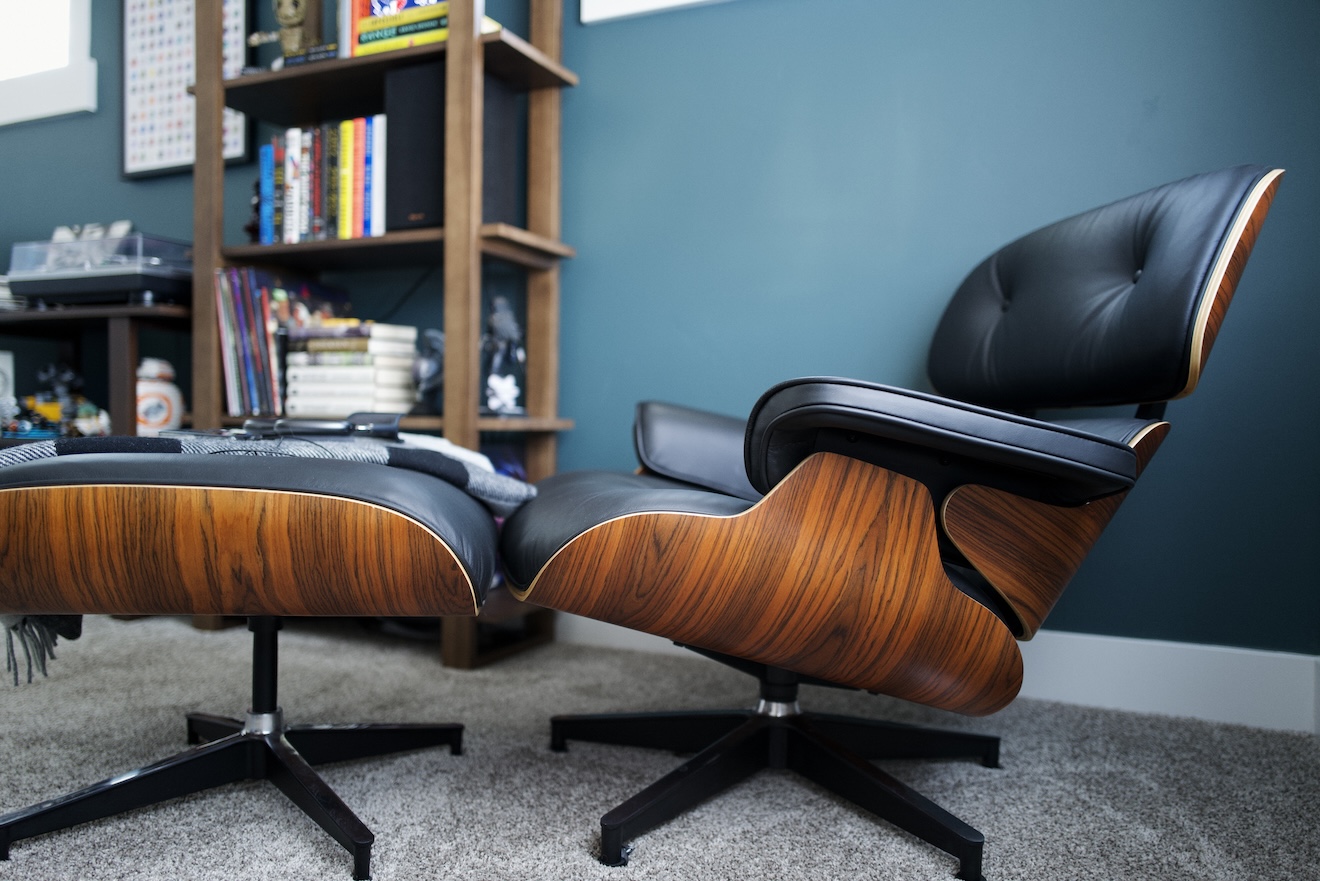 Burrow Bookcase and Console
One of the newest additions to my office are these bookshelves from Burrow. They aren't supposed to go together (the console is a little deeper than the bookcase), but I really like how the fill the space and have lots of open space for books, LEGOs, and vinyls. I'm hoping to put a custom neon sign in the open space above the bookcase, but haven't been able to get it made yet. Stay tuned! 👀 ↩
FluidStance Balance Board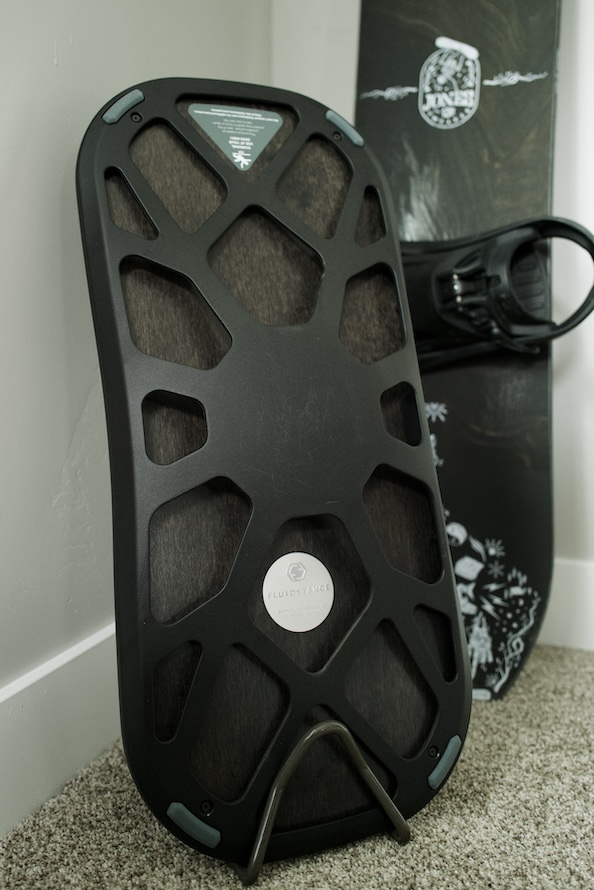 I bought a cheaper version of this balance board years ago when I was looking around for a solution to pain while standing at my desk. I'm not a doctor, but based off my understanding it's not the sitting at a desk all day that's that bad part, it's the all day part. Enter standing desks, which allow us to switch between sitting in a stationary position, and standing in a stationary position. In other words, it's not really doing much for us since we're still mostly static or stationary.
That's where the balance board comes in, encouraging and facilitating lots of micro movements while standing at our desks. In my opinion it doesn't require a ton of balance to stand on it, but it's just enough to keep your body doing small adjustments. If you'd like to do some reading from FluidStance, they have a nice page on their site diving into the benefits and research on the subject.
Plus I like to think it helps keep my snowboard balance improving year-round! 🏂
Art
I love buying artwork, framing it, and hanging it around me. It inspires me in so many ways and I love being able to support artists in a small way. I have purchased and framed many prints over the years, and I want to continue to grow my collection.
I also love printing out and framing my photos, bringing them out of their digital form and being able to admire them in the physical space. I wish I had more space to hang things, because I'm starting to run out!
I've framed most of the art in my office using Level Frames, who have consistently delivered great looking frames for what I feel like is a reasonable price. I've also ordered many printed photos from them, and have loved how they've turned out. If you're looking for frames (or printed and framed photos), they have a referral program that gives you $15 for creating an account that you can use toward your first purchase (which then gives me some credits for my next purchase). ↩
Snowboards
After growing up in Colorado, and living in Utah for over a decade, you'd think I'd have started snow sports as a kid. However I only took up snowboarding a few years ago but I've wasted no time acquiring several snowboards that make a great addition to my office during the offseason.
I'm really fond of the Jones boards from a ride feel and aesthetic, and have three of them around my office. I'm excited to take the newest one out for it's maiden trip in a matter of weeks. ↩
Legos
I'm not a full blown LEGO collector, but I do have quite a few sets in my office. My younger self would be extremely disappointed that I have multiple sets still in the box waiting for me to build, but I'm quickly running out of space to display the finished sets.
I am particularly fond of the car sets, and have multiple Porsche 911 models in my office:
I also have a handful of small Star Wars sets, the full-size R2-D2 and BB-8 models, Groot, and Wall-E on display. I will have to rearrange things for when the upcoming Dune Royal Ornithopter set is released next year, because that's definitely going on display. ↩
in closing
It's really fun to continue iterating on my office to make it a place that's productive and inviting for me to do my best work. As I've been writing and compiling this post I've marveled at being able to work for four different companies from this same room. Equipment and furniture has changed, company-issued machines have come and gone, but I've been able to "commute" into the same room through it all. I'm thankful for companies that are open to remote employees so that people like me who thrive in their own environment can do great work.
If I missed anything you'd like to read more about, I'd love to hear from you! The best way to contact me is on Mastodon, but if you don't have a Mastodon account you can fill out this contact form.