My Home Office
It's been almost three years since I last wrote about my remote work setup, and a lot has changed in everyone's lives since then. It was time for me to post some new photos of my home office, and write about some of the things that help me do my best work. But first, let's talk a little bit about remote work almost two years into the pandemic.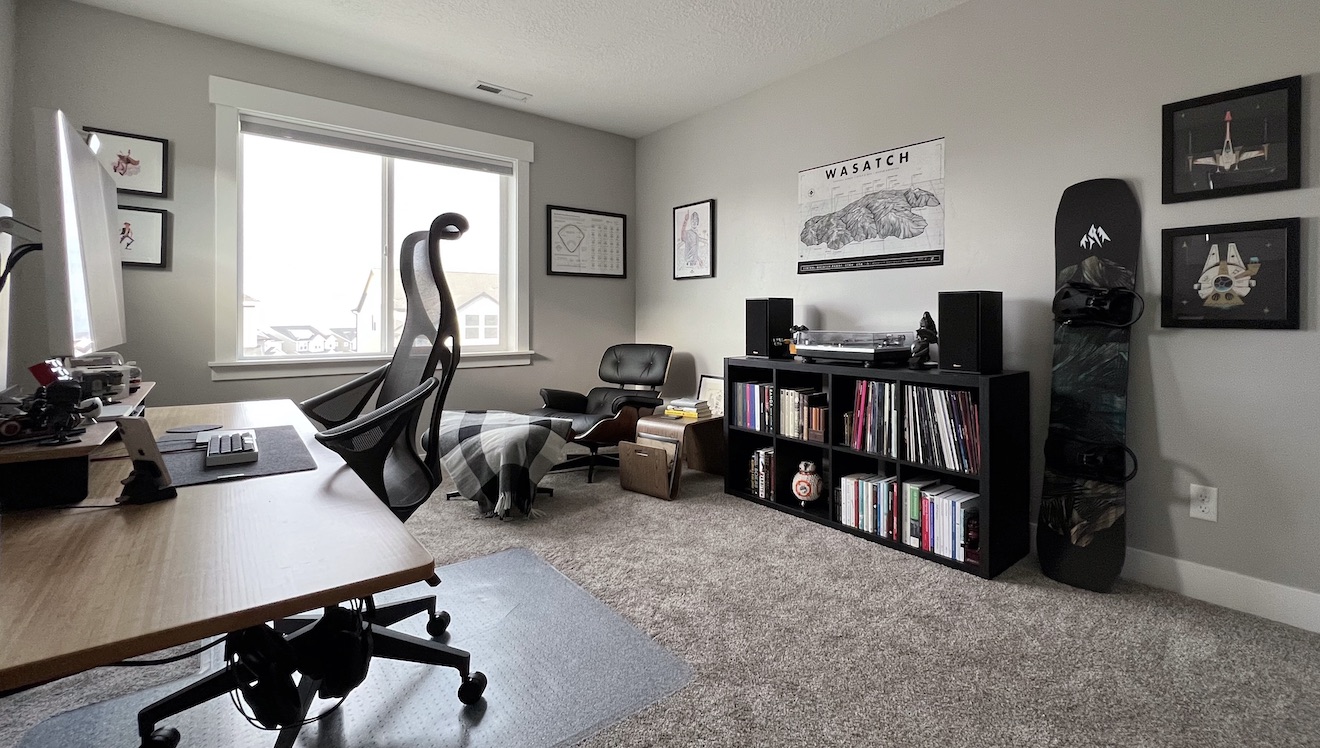 Remote Work in a Pandemic
So… a bunch of people have tried working remotely over the last two years. Or maybe we've all just been trying to survive, and work has been an occasional side effect of those attempts. Whatever the case, many people have needed to set up work-from-home "offices" wherever they could – the kitchen table, a spare bedroom, a closet, the living room couch, or maybe even in bed.1
I had the ultimate luxury going into the pandemic of already being on a remote-friendly team and having a dedicated space from which to sit down and work from. The pandemic has been far from easy for anyone, and for a lot of people, the "grand remote work experiment" of 2020-present2 hasn't been a bright spot, leaving a negative impression of working from home. Many people have written about the various contributing factors: lack of dedicated space, concurrently needing to perform at-home schooling, the general stresses of a global pandemic, etc. I'm not going to dive into all of those, but I do want to say that after six years of working from home, I still love it.
As I've considered the pros and cons of returning to an office environment over the years, sometimes I'm swayed by the benefit of seeing coworkers or fewer latency-induced interruptions during meetings. But then I start to remember all of the trade-offs. The loud open office, harsh fluorescent lights, HVAC that's always either too hot or too cold. Again, I fully admit that not everyone is in a situation where they can have a dedicated room in their house adorned perfectly for sole use as an office, but that is the situation I have put myself in.
Over the six years I've worked primarily from my home office, I've added artwork, furniture, books, toys, and technology that makes it a perfect office environment for me. Going back to an office would be a trade down in almost every aspect for me. As a senior/lead software engineer at most companies, I would be given a desk or cubicle in an open office. If I was lucky, I'd be given a shared windowless office with 1-3 coworkers.3 My home office is a large, private, well-lit, windowed, quiet room that I can arrange and adorn however I'd like.
So to wrap up my soapbox monologue before we get to the fun stuff: if you didn't like working remotely during the pandemic, you may not have seen the best sides of it. I urge you to give it a fair shake under better circumstances.
The Desk
Ok, now onto the fun part of this post! I've broken this up into two sections: the desk, and the room. The desk is front and center in the room, and it's what I see most of the time, so I've tried to make it as fun as possible while optimizing for how I work.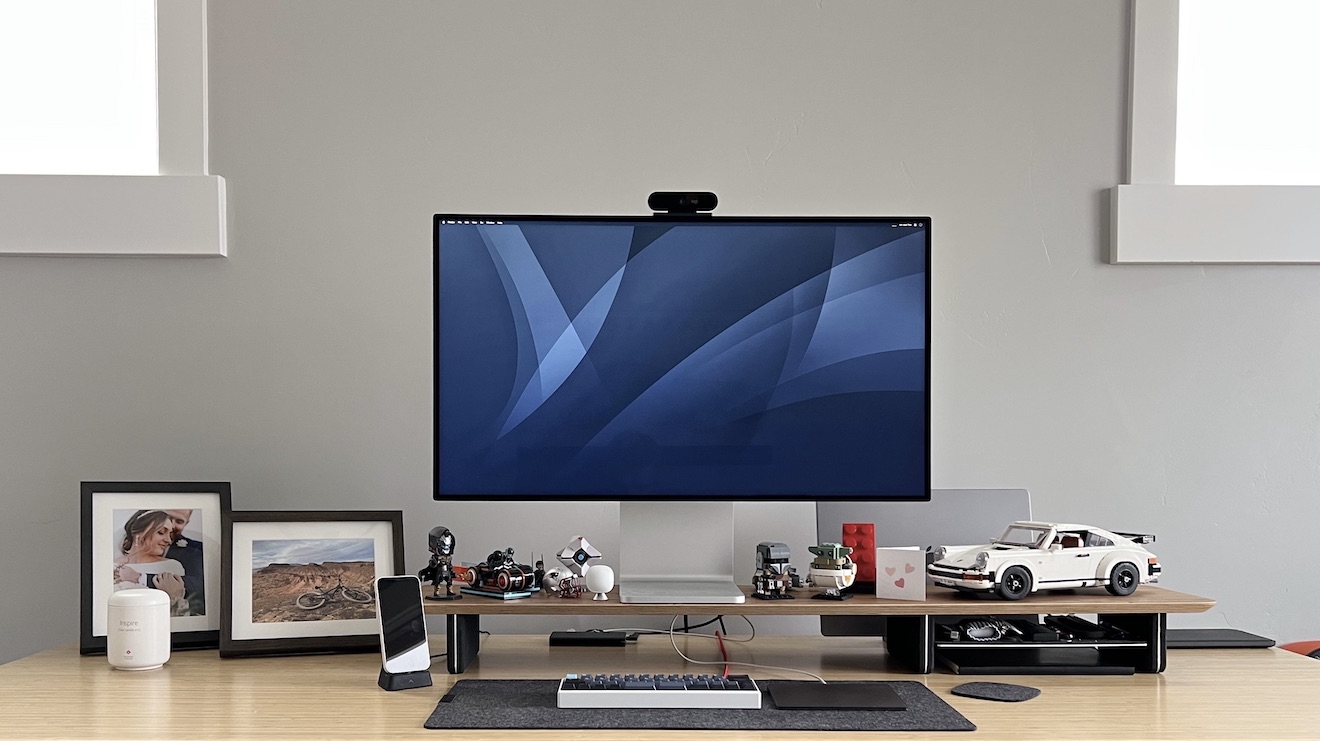 I love the current iteration of my desk. It's big, usually has open space for me to set things down on, and has some fun little toys and LEGOs to bring a smile to my face. I wasn't always a "toys on the desk" kind of guy, but it's who I am now and it's great. Here's a list of the main things on the desk (with links, prices, and when I added it to my setup where possible):
Apple Pro Display XDR
Price: $6k / Added: January 2020
Probably the most criticized purchase I've ever made. The first thing anyone says when I tell them I have one is that it's overpriced and I wasted my money. I've had it for over two years and I haven't regretted it once. It's the best display I've ever used. And yes, I got the Pro Stand.
2021 16" MacBook Pro
Price: $3.5k / Added: November 2021
I love this machine, easily the best laptop I've ever used. Fast, great battery life, awesome screen when I leave my desk, and the fans are never audible. I got the M1 Pro with 32GB of RAM and a 2TB drive.
MiniVan Mechanical Keyboard
Price: ~$400 / Added: December 2017
I have several custom mechanical keyboards, but this is one of my favorites, and my current daily driver. It's a 40% layout called the MiniVan, with Zilent 67g switches and GMK Dracula keycaps.
Level Frames Tabletop Frames
Price: $50 (referral link) / Added: January 2021
I have a ton of framed art around my house, and I love the quality of Level Frames. They introduced these tabletop frames a while back and I think they're a great size + price + quality. (Not an ad, but you and I get some credit towards future purchases if you use my link.)
LEGO Porsche 911 Turbo
Price: $150 / Added: March 2021
I have a few LEGOs in my office, including this Porsche 911 that I have front and center. I love Porsches, and have always been a fan of the classic 911 silhouette. As soon as they announced this set I ordered it.
Jarvis Standing Desk
Price: $680 / Added: March 2018
This standing desk has served me well, and although I would like to replace the top (maybe with a nice reclaimed walnut slab), it's been really great in all other aspects. It's sturdy, has a large surface area (I went with the 78x30 size), and the sit/stand functionality works great.
Herman Miller Cosm Chair
Price: $1.6k / Added: January 2020
This desk chair, like most in the Herman Miller catalog, is definitely pricey. I used to have a Herman Miller Embody, but I took a gamble on the Cosm's supposed "no adjustments necessary" design and I've been impressed. It's definitely my favorite desk chair, and I love the full mesh design. It's comfy and supportive all day long, and the mesh allows airflow so even on warmer days I don't get sweaty. I went with the high-back design with the leaf arms (which I love) in graphite.
Other Miscellaneous Items
The Room
Even though most of the meat of my office is up on the desk, I love the back area of my office as well. Of course it serves as an epic background for WebEx calls, but it's also a great place to sit down, relax, read, write, or listen to music.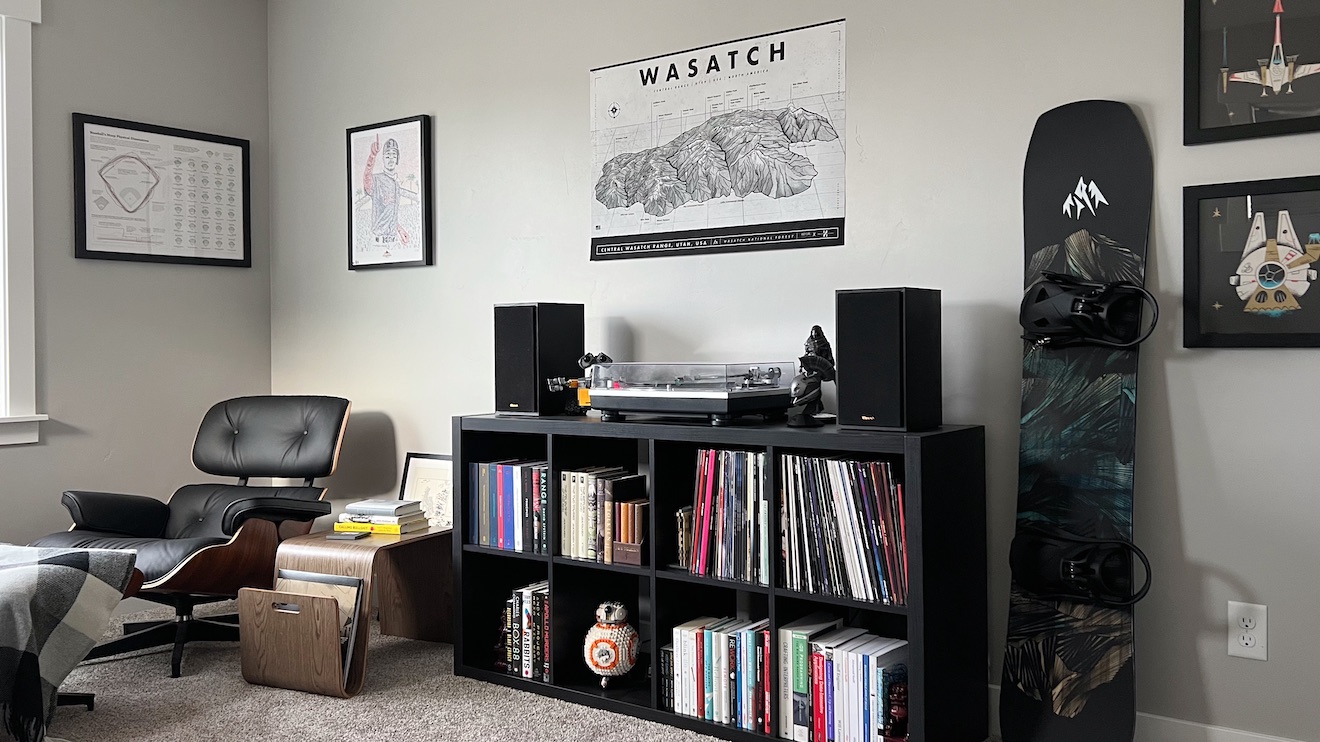 I won't bore you with an exhaustive list of everything pictured, but I will call out a few general groupings of things that help make this office my favorite place to work.
Replica Eames Lounge Chair: I've always loved this chair. It's comfortable, it looks great, and it makes me happy whenever I see it.
Audio-Technica Turntable and a collection of vinyls. After working with computers all day, I love the analog sound and physical effort needed to listen to albums.
Books, books, and more books. So many books, not enough time.
Jones Mountain Twin Snowboard. Living in Utah for almost a decade, it was only a matter of time before I took up snow sports.
LEGOs. The LEGO sets on this shelf rotate a bit, but currently Wall•E, BB-8, and the Flatiron building.
Art pieces. I love having cool art on the walls in my office. I have several baseball themed pieces, some Star Wars art by Rogie King, and a great illustrated piece showcasing the middle portion of the Wasatch Front mountain range.
In Conclusion
I love my home office, and even on bad days at work I love being in a comfortable environment surrounded by things that bring me happiness. I hope you enjoyed seeing a little slice of my day to day life and some of the things that I've collected over the years. Is there anything I didn't cover that you have questions about? Let me know, I'm happy to chat!
---
I'm not here to judge people – if you made it this far, good job! 👏 ↩︎

I'm aware that some people didn't work remotely during the pandemic, and some have already returned to offices. ↩︎

I realize there are exceptions to this and that there are companies that have [small] private offices for employees at my level, but they are the exception in my experience, not the rule. ↩︎